Education & Training
Porch Light's programs offer a nurturing, yet challenging environment for young actors, singers and dancers to build technique and performing skills, enhance creativity and collaborate with others. Whether or not you dream of performing on a Broadway stage, Porch Light can give you the tools to become a more confident and dynamic performer.

Programs include:


Performance-based training. Students develop triple threat (acting/singing/dance) skills while preparing for a fully-staged production of a popular musical.
Explore your performing skills in a fun, creative environment.
Open-level program for grades 1-5 and 6-11. Fall/winter and spring sessions for each age.
All registered students are accepted an given a role(s) in the show.
Auditions are held on the first day of the program for casting purposes.
Technique-based training focused on developing skills in a specific area
Learn something new or enhance your abilities in a fun, creative environment
Classes are available in acting, dance and musical theatre (act/sing/dance)
Open-level program for ages 4+
Auditions may be held for advanced-level and industry prep classes only.
Individual or semi-private training focused on enhancing skills in a variety of areas
Individualized critique and exercises designed to meet the needs and abilities of each student
Lessons available in vocal, instrumental (piano, guitar, bass, drums, etc), acting technique, audition prep and coaching and more

An award-winning triple threat program for the dedicated musical theatre student
Includes advanced technique training in acting, voice and dance as well as diverse performance opportunities throughout the season
Audition-based program open to ages 8-18
Requires a year-long committment to your training
Auditions held in June for the following season
Rich and challenging performance and tech opportunities for high school & college students
Winter and summer programs available.
Opportunities to explore the day-to-day workings of the theatre in addition to performing or working on the production
Auditions required for the Winter Session. Auditions for casting purposes only in the Summer.
Fun performanced-based after school theatre programs
All registered students recieve role(s). Auditions are held for casting purposes only
Grow performing skills, while working with a community toward a common goal.
Current programs: Orchard Elementary, Demarest School, Haworth School
Fun, open-level musical theatre camps for ages 4-6, 6-10 and 11-15
Weekly camps focused on exploring acting, singing and dance in a safe, creative environment
Internships for high school & college students in performance, directing, tech & more
Special Programs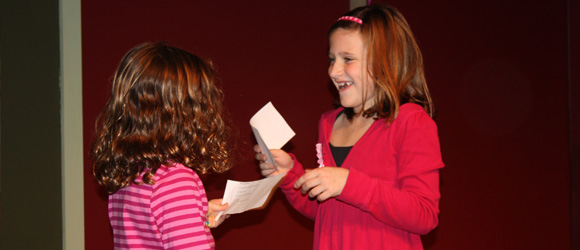 Master classes, workshops and school break camps scheduled throughout the season
Boy & girl scount workshops available for private group classes

Have a group interested in booking your own class? Contact us to learn how we can cater a program to your needs!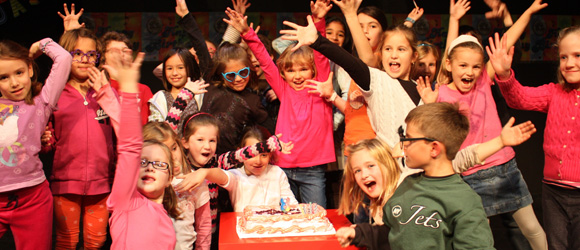 Celebrate that special day with a Porch Light Birthday Party!
Creative, high-energy theatre parties that will engage all of your guests
Packages include age appropriate activities, decorations, goodie bags and prizes
Bring your own food or let us supply the eats!
Ready to book your party?
Contact us
to schedule your special event!!
If you not sure about what class or program might be right for you or your child,
email us
and we can direct you to the best opportunity. We are dedicated to the enrichment and growth of each student.