High School/College Internships
Porch Light's Summer Internship Program offers a rich and challenging experience for high school and college students who are actively pursuing education in musical theatre, technical theatre, public relations, graphic design, marketing and more. Interns have the opportunity to work closely with Porch Light staff and other artists on a variety of projects.
Summer Musical
Jul 21 - Jul 23
About the Show: Details coming soon.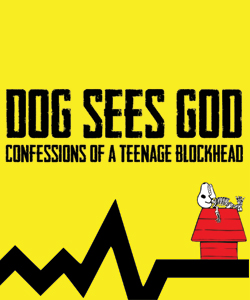 Dog Sees God
Aug 04 - Aug 06
About the Show: When CB's dog dies from rabies, CB begins to question the existence of an afterlife. His best friend is too burnt out to provide any coherent speculation; his sister has gone goth; his ex-girlfriend has recently been institutionalized; and his other friends are too inebriated to give him any sort of solace. But a chance meeting with an artistic kid, the target of this group's bullying, offers CB a...